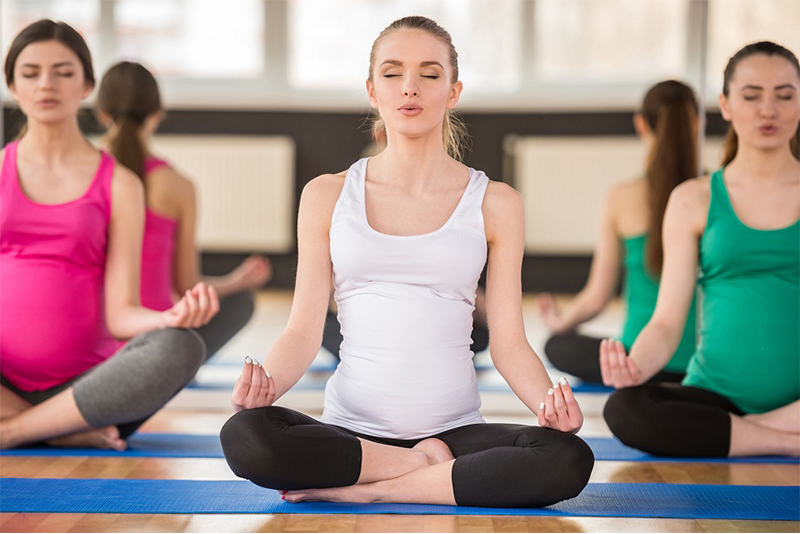 While heavy exercise during pregnancy is a big no-no, more women are now turning to prenatal yoga as a viable alternative because of its numerous benefits, from staying in shape to ensuring the safety of their unborn child.
Yoga is a centuries-old ritual of physical, mental and spiritual practices that originated in India as early as the fifth and sixth centuries BC. While there is a broad variety of yoga types, they share similar paths in that some of them involve mastery of the mind and senses and others focus on cultivating one's energy or chakras (spiritual powers). Ultimately, yoga consists of eight core disciplines that encompass: achieving a state of higher consciousness; meditation; concentration; breath control; universal ethics; self-conduct; physical postures; as well as control of one's senses.
Because most of these aims are especially useful to women who have conceived, this has naturally kindled interest in yoga and its practical use during pregnancy. Generally, prenatal yoga is made up of a combination of breathing, pacing, and posing (asana) exercises which helps mothers-to-be physically and emotionally prepare for labour and birth. Some women also believe that practising yoga will help reduce complications during their pregnancy and also aid in the discovery of her own inner strength to enable a smoother and more relaxed birthing experience.
Benefits of prenatal yoga
Prenatal yoga poses are essentially gentle, low-impact methods of keeping a woman's changing body active and supple. Depending on which stage of the pregnancy she is in, prenatal yoga may even help minimise common problems such as morning sickness and constipation. Yoga can also help facilitate easier labour and a smoother delivery by relieving tension around the cervix and birth canal and by opening the pelvis.
Prenatal yoga also offers other key advantages specific to pregnant women. It allows them to stay fit and flexible, helps to regulate breathing, strengthens the muscles and pelvic floor, improves blood circulation, eliminates the problem of cramps, as well as relieves stress, which cumulatively keep women focussed and healthy before labour and birth. When performed throughout the duration of your pregnancy, yoga will allow your muscles to relax—especially in the cervix and birth canal regions.
All these plus points are in addition to the multiple health benefits that have boosted the popularity of yoga in the general population, and not just pregnant women in particular. As a holistic lifestyle activity and form of exercise, yoga has been shown to lower blood pressure, improve sleep and digestion, strengthen muscles and joints, and increase overall flexibility. Yoga also helps remove impurities from the body through the breath, sweat, liver, kidneys, and digestive system. People who practise yoga regularly report that they feel less stressed and healthier.
Continue reading on the next page...
---
The breathing exercises and improvement of muscle flexibility are the most beneficial to a pregnant woman and that is the primary focus of prenatal yoga exercises. When done correctly, such movements will gently stretch the woman's muscles without overexertion, and will help relieve pressure and tension on the ligaments that are normally stretched and pulled from carrying the weight of the growing baby. Yoga poses will also stretch muscles around the hips, lower back and hamstring area which reduces lower back pain and ensures proper body alignment during pregnancy. Women who experience constipation and indigestion as their baby grows may also benefit as some poses can improve the regular digestive flow.


Consistent asana practice enhances blood and oxygen circulation which further helps in the reduction of swelling and inflammation around such joints as the wrists and ankles. These benefits will endure even at the post-pregnancy stage, when a mother needs to retain optimal energy and stamina levels to take care of her new born child.
Hormonal changes during pregnancy will usually trigger mood swings, morning sickness and other aches and pains which can be highly distressing to a woman's body and mind. During active labour, she may become uptight and anxious, which can make the pain feel more intense. Some women may resort to holding their breaths or even hyperventilate when they start feeling stressed. Prenatal yoga is thus beneficial as the different breathing techniques will relax your body and relieve stress and tension. Regulating breathing can make a great difference to how labour pain is distinguished: as intense waves or mild and controllable cramps. Although it might be challenging to consciously recall these techniques when you are actively undergoing labour, it is definitely a useful coping method to fall back on if you practise your breathing frequently and regularly before your big due date. So make it worth your while now that you can!
Continue reading on the next page...
---
What to expect
The first trimester is when women will experience major changes to their bodies. If you are considering taking up yoga, now is a good time to start and if you are already practising it, it is recommended that you continue. Although prenatal yoga is beneficial in multiple ways and is generally considered safe and non-taxing to mother and baby, as with all forms of exercise, it is advised that you first consult your ob-gyn before you embark on any sessions. This applies to whether you are a yoga newbie, or are already experienced doing such exercise.
Next, it is advised that you seek out a reputable organisation or facility that specialises in, or offers yoga classes conducted by a trained and certified yoga practitioner. It's even better if the classes are specifically designed for pregnant clients, as the exercises will be even more relevant and tailored for your body's condition. Working out in similar company will also ensure your motivation and enthusiasm levels remain high and helps create a comfort zone for yourself to confidently make progress throughout the different stages of your pregnancy.
During the second trimester, the baby inside you will start growing faster and at a steady rate, so harnessing yoga will help you learn how to shift your centre of gravity to accommodate your growing belly. Some women need more time adjusting to the sensation, so the breathing and posture exercises through yoga will definitely be helpful as they pay attention to their legs and abdominal muscles. Focussing on leg muscles is important as through regular toning, your legs will become strong enough to bear your growing weight especially during the last few weeks of your pregnancy.
Continue reading on the next page...
---
Points to ponder
According to yoga trainer Andrea Fox, who is also the owner and operator of Shanti Yoga Center, when approaching prenatal yoga, "lying on the front is inappropriate. Strong back bends are to be avoided, as are postures that involve using the tummy muscles strongly, such as the boat pose or supine leg rising. Any posture involving balance should be tackled with great care."
Here are other considerations to take note of when you begin a yoga routine:
While you can definitely practise the breathing and simpler stretching exercises on your own, any other more complicated or challenging asanas should always be performed under supervision

Starting yoga is no different than starting any other form of exercise—the same advice applies. If you are not used to regular exercise, you should start slowly then build up the intensity

Always be alert to what your body is telling you; that is, if you feel any discomfort, stop. Adjust your pace or modify your moves according to your body's physical changes

If you are doing any poses that require twisting, practise such motions from the shoulders and back in order to eliminate any pressure on your stomach

Avoid doing any poses while lying on your back after the first trimester, which may reduce blood flow to the uterus

Manage your expectations and know your limitations. During the third trimester you will not be able to do the same movements with as much ease—or even at all—as you could during the first trimester as your stomach will be much larger
Continue reading on the next page...
---
Vitality for mind and body
Some poses that are useful from the second trimester onwards of your pregnancy include:

1. Standing side stretch pose: It helps the legs and arms stretch in an upward and outward direction from the belly at the same time.
2. Standing spread leg forward bend: This pose helps improve spine curvature and strengthens inner and back legs. Those suffering from lower back problems can use a prop chair to stretch your arms out for support.
3. Seated forward bend (Paschimothanasana): Stretches the hamstrings, shoulders and spine to relieve stress while enhancing concentration and body posture.
4. Spread leg forward fold (Upavista Konasana): Helps work the hamstrings and adductors (muscles that draw a body part toward the body's midline).
5. Hero pose (Virasana): Is especially helpful for those with flat feet as it strengthens the foot's arches and ankles while enhancing posture.
6. Mountain pose (Tadasana): Helps correct your posture, strengthen thighs, ankles and feet. Also tones abdominal muscles.
7. Warrior pose: Stretches and strengthens muscles in the arms and legs, leading to improved balance and body alignment, relief from backache.
8. Triangle pose (trikonasana): "Opens" the hips and shoulders, stretches the legs and creates overall balance.
Besides these self-administered manipulations to the body, the mind is not left out either as meditation is very much an integral element of yoga. Meditation is an ideal way to develop a calm mindset which is necessary during pregnancy as the mental state of the mother-to-be will have a positive influence over the development of the growing foetus.
In yoga, meditation involves the incorporation of breathing exercises which provide more oxygen to the baby in the womb while creating emotional and mental wellness to control any mood swings. Including yoga music also helps create an atmosphere of peace and tranquillity, which helps blanket the mother with a sense of soothing spirituality as she does her exercises. In this way, she can gain the most out of prenatal yoga therapy when the time spent is totally devoted to the workout and devoid of any sources of stress.
Always remember that committing to a yoga regime during your pregnancy should not feel like a tedious chore. Think of it as a complementary measure to vitalise your health and well-being. There will undoubtedly be days where you feel more alert and energetic to fulfil your exercises; and there will be times when you feel tired or less motivated. This is entirely normal and since yoga is about being attuned to your body, make sure that you take a break or slow down accordingly during those days when you feel somewhat "off". The foremost priority is to keep you and your baby safe by avoiding any unnecessary exertion... and equally important, have fun, relax and enjoy the journey!

Continue reading on the next page...
---
Aqua Yoga: "Wat-er" Sensation!

Aqua yoga takes the principles and movements of yoga and adapts them to the environment of water. This series of yoga exercises for the water was developed by Françoise Barbira Freedman, a medical anthropologist and affiliate lecturer at the University of Cambridge who is also a trained yoga teacher and therapist.
Pregnant women enjoy more freedom of movement and a sense of weightlessness when they are immersed in water. Flexibility and mobility are increased, while breathing and circulation improve. It is thought that the movements practised in the last few weeks of pregnancy may even encourage the baby to settle into a favourable position ready for birth.
With the release of gravity in water, the body is able to reap the benefits of classical yoga postures which can be accomplished without undue strain. However, the exercises are still effective as the water provides sufficient resistance for the muscles to work against. Aqua yoga offers the perfect combination of benefits of both yoga and swimming. No previous yoga experience is necessary, and it can be practised by swimmers and non-swimmers alike.
If you like this article, share it with your friends!