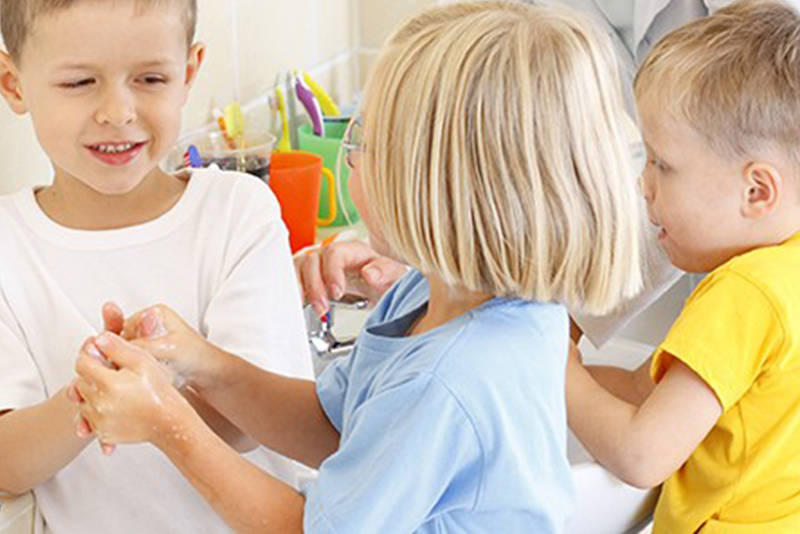 Waging war doesn't mean being aggressive or on the attack all the time – it also means arming yourself with defensive tactics and coping strategies to outwit and outsmart the enemy: the year-round Hand, Foot and Mouth Disease viral infection.
First-time parents or parents whose kids have never fallen ill with HFMD before may understandably be filled with excessive fear at every ominous-sounding headline that mentions the disease. So acute is their awareness that in Singapore, most parents of young children are very likely familiar with the acronym without any need for clarification.
What's more, you'll also likely be met with a variety of reactions from them when discussing the subject, ranging from worry and anxiety to getting all flustered and even physically recoiling, as if there's a sudden change in the air.
And there's good cause for concern: HFMD, a.k.a Hand, Foot and Mouth disease, was at its highest levels in early May, exceeding more than 1,000 weekly reported cases since the last major outbreak in October 2013.
HFMD is caused by the enterovirus family of viruses, which is responsible for a wide range of infections in children. These viruses live in the intestinal tract, the more common ones being the Coxsackie A and Enterovirus (EV71). While HFMD is endemic in Singapore (meaning it occurs regularly, and all year-round), it certainly isn't a new illness, nor confined to just our shorelines. In fact, the World Health Organisation recorded approximately 2.5 million cases in China, Japan, Singapore, Vietnam and Hong Kong in 2015.
Why Parents Fear HFMD
I recall being a new mother when the worst HFMD epidemic hit in the year 2000, which claimed the lives of seven children after they developed complications caused by the more dangerous EV71 virus. The severity of the situation led to HFMD becoming a legally notifiable disease in October 2000.
It was 2004 when my then 4-year-old son fell ill with HFMD, but it could not have come at a worse time, when paranoia of transmittable diseases was still high. A year ago, there had been nationwide panic during the SARS outbreak. For the past few years, the public had indeed been inundated with images of face masks and hand sanitisers and messages in the media stressing the importance of personal hygiene and such. It was only natural that my heart dropped to the pit of my stomach when I saw those dreaded red spots appear on my son's hands and feet…. A parent, no matter how well-informed, is sometimes unable to plug their worst worries nor control their imaginations from running rampant towards worst-case scenarios.
Continue reading on the next page...
---
So believe me, I know the fear first-hand, and how real and raw it feels:
It's Highly Contagious!
An infected person can transmit the virus when in direct contact with other individuals through nasal discharge, saliva, faeces, or fluid from ulcers, rashes or blisters. There's also the risk of getting infected simply by touching unsanitised items used by the HFMD patient.
It's Who It Infects Especially!

While both adults and children can get infected, children under the age of five are the most susceptible. The Ministry of Health has noted that two-thirds of HFMD cases in Singapore are below the age of five. According to Yearbook of Statistics, Singapore (2015), the total enrolment in childcare centres is 92,932; for kindergartens, there are 68,999 registered children. Children are usually in close proximity with one another in these facilities, sharing common areas, toys, stationery and other items, so just one sick kid could end up infecting a wider pool.
My Kid(s) Can't Go To School!
Once your child has been diagnosed with HFMD, he must remain at home and not be allowed to go to school as he will be contagious throughout the length of his illness. For working parents, this could prove complicated as they will now have to juggle their job responsibilities with taking care of their child (parents with more than one child may also have to isolate him/her from the healthy siblings). They may have to work out an arrangement between themselves, their employers and their extended families and decide on the number of days to take leave.
It Can't Be Treated Directly!
There are no vaccinations nor specific antiviral drugs to treat HFMD, nor does it respond to antibiotics since it is a viral infection. What's more, a second episode of HFMD can never be ruled out as it could be caused from a different strain of enterovirus.
Continue reading on the next page...
---
What Parents Should Do
The reality is that, just like the common cold, HFMD is a viral malady that is omnipresent and seasonal. Note: Singapore recorded its first outbreak of the illness in 1970, so we've been living with the virus for nearly half-a-century now (and likely, more!).
On hindsight, it's therefore best not to become too alarmed, even after your child has been confirmed with HFMD. Reassure yourself that HFMD really isn't as scary as it seems to be. Most medical professionals describe the illness as "usually mild and self-limiting", which means that even without treatment, it will typically run its course by days 7-10.
Remember, if your child falls ill, refrain from overreacting or panicking! Here's what you can do to get hands-on and proactive.
Look out for Symptoms

On average, HFMD symptoms will show up 3-7 days after the infection, which is known as the incubation period. The usual symptoms include:
Fever: this is usually the initial symptom and can last up to 5 days

Mouth ulcers: normally occurs about 1-2 days after the onset of fever. These are found on the tongue, gums or inside of the cheeks and can be painful

Rashes on hands, soles of the feet: presented as raised or red spots, some with blisters. The rashes will break out around the same period as the mouth ulcers

Sore throat

Malaise, or general tiredness

Poor appetite

Headache
Some virus carriers are even asymptomatic (meaning they won't show any symptoms), while others do not exhibit all of the usual symptoms. For example, when my son had HFMD, the rashes on his hands and feet were not overly bothersome; he did not have mouth ulcers and was able to eat normally; and his energy levels also seemed normal.
However, if you notice any deterioration of your child's condition and worsening of any of his symptoms, seek medical advice as soon as you can. The EV71 virus strain, in particular, can cause complications and inflammation of the heart and brain, though this is rare. In any case, keep a watchful eye over your recovering child.
Currently, there is no clear evidence that enterovirus infections, including HFMD, during pregnancy can adversely affect mother or baby. There is the risk that a mother may pass the virus on to her baby if she was infected shortly before the birth or have symptoms during the delivery. Most babies will recover without need for serious medical intervention. Newborns infected during the first two weeks of life may need to be monitored more closely as their immunities are still vulnerable; however, the risk of developing severe illness is again uncommon.
Continue reading on the next page...
---
Offer First Line of Care
Once you suspect that your child is unwell, bring him promptly to a doctor. Medicine will usually be prescribed to treat the symptoms, such as paracetamol for fever and pain management; as well as topical treatments for the ulcers and rashes. To relieve sore throats, parents can try using Betadine's Sore Throat Spray or Gargle & Mouthwash, both products of which have proven anti-virus effectiveness against EV71 and Coxsackie A16, two strains commonly known to cause HFMD.
Caregivers should keep the patient hydrated with plenty of bedrest, and let their immune system do the rest to fight off the infection. Feed your little one a soft diet and avoid spicy, salty foods, citrus fruits and soda drinks as he slowly regains his appetite. Just do your utmost to ensure your young patient is kept comfortable and hopefully occupied as he recovers!
Help Break the Chain of Transmission
Unfortunately, a child who has gotten HFMD before is not prevented from catching it again, although he can develop immunity against specific strains. This is actually good news as a child who's already gotten infected once in a current outbreak season will rarely fall ill twice from the same strain. While older children over the age of 10 as well as adults can catch HFMD, their symptoms are usually milder unless they have weakened immunity systems.
Because the patient is usually most contagious during the first week of catching the illness, most medical professionals advise keeping your children at home and away from school or other public places if they are infected with HFMD (for up to 10 days. The virus, however, can remain in the faeces of a sick child for up to 12 weeks and in the saliva for up to 4 weeks.
That's why it's so important to practise good basic hygiene until it becomes the norm, rather than an exception during outbreak seasons or when a family member takes ill. For something that offers more protection than soap and water, families can use Betadine Skin Cleanser, a disinfectant hand wash and skin cleanser with active ingredient povidone-iodine. Like the brand's Throat Spray and Gargle & Mouthwash, the product is highly effective in combating the two leading strains of the HFMD virus. No-rinse hand sanitisers are another convenient option too, but ensure that it contains at least 60% alcohol for it to be an effective germ-killer.
If any of your kids are sick with HFMD, it's also advised to disinfect surfaces and items which they may have previously come into contact with or touched. Wash and wipe down with soap and water before proceeding to disinfection with a solution of 1 tablespoon bleach to 4 cups of water. Alternatively, you can buy disinfectant sprays and solutions off the shelf as well.
Continue reading on the next page...
---
What Lies Ahead?
In the current war against HFMD, scientists at Beijing Vigoo Biological have developed an as-yet released vaccine against EV71, a common strain of enterovirus that has also been previously linked to more serious outbreaks resulting in sporadic fatalities. Researchers said that while the vaccine provided 90% protection against EV71-associated HFMD, it should also be noted that other viruses can also cause the illness. Since there was no evidence that the vaccine offered cross-protection against other strains apart from EV71, even if it were to be rolled out eventually, its limitations would thus have only a "minimal impact on reducing the overall number of cases of the disease," Reuters reported.
It may seem disheartening that even with the emergence of this ground-breaking vaccine, eliminating HFMD once and for all seems highly unlikely – especially as there are more than 70 different strains of enterovirus! In light of this reality, what we as parents can do is to work together with the community to minimise the spread of the illness during an outbreak by practising good hygiene habits, and keeping vigilant to break the chain of transmission by being aware of the signs and symptoms in affected individuals, and isolating those who are infected away from their healthy peers.
Note This!
The Ministry of Health provides regular updates on the HFMD situation locally at: www.moh.gov.sg/content/moh_web/home/diseases_and_conditions/h/hand_foot_mouth_disease.html
If you like this article, share it with your friends!