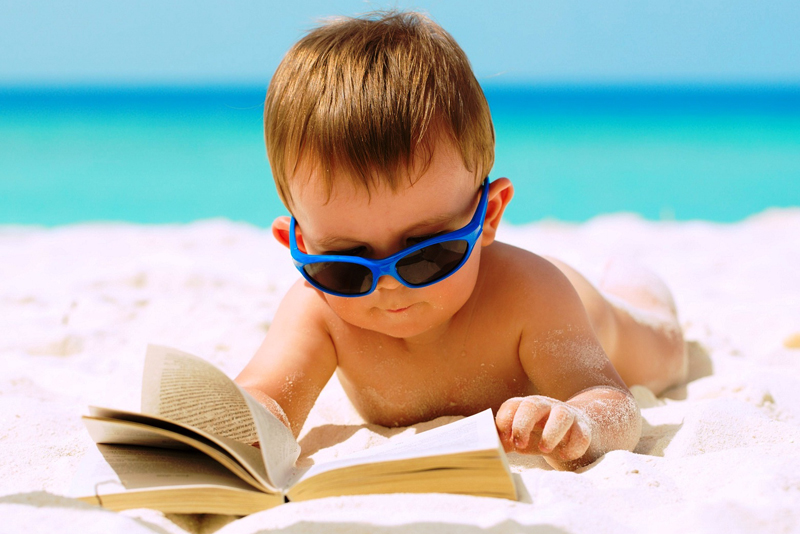 4. Presentation of reading materials
Offer your babies a variety of books presented in different materials, textures, shapes, sizes and formats. Think books made of thick sturdy cardboard, cloth, and wipe-off plastic, to name but a few. Interactive books with pop-up pages or have things within to touch, feel and hear are appealing too. With the proliferation of touchscreens these days, parents can also opt for digital readers designed specifically for kids, which can hold lots more titles and feature appealing animations as well.
5. How to read
Use your voice to emote whatever you are reading aloud. Don't worry about feeling silly; you will be rewarded when your baby grows to love particular parts of a book because of your expressive sounds! This is also known as "voice inflection" and is defined as "the way we change the tone of our voice to emphasise key words" (Speaking of Speech: Harrington and Le Beau).
With the right tone of voice and inflection appropriate to a baby's development (for e.g., they can grasp basic feelings, like anger) you can read almost anything. The editorial section of a newspaper can even be read to calm a baby, if the tone of voice is right!
Take the opportunity to stimulate your baby's senses too. If the story has wind blowing, then gently blow into your baby's ear. If the story has movement, then bounce your baby gently on your knee. If there's a hungry crocodile, then use your fingers to mimic its jaws gently snapping your baby's tummy. Once they have become familiar with the story after repetitive readings, they will begin to eagerly anticipate certain parts of the story. This is actually teaching story prediction (knowing what comes next).
Continue reading on the next page...
---
What's next?
Initially, not everyone will feel natural when reading aloud to children this young, especially infants. Some parents may even find the idea quite unusual, since they assume the baby isn't fully comprehending the story being read to them.
Even if your baby's attention appears to wander from the book, keep at it instead of calling it a day! Don't be disheartened. Prepare to be flexible and focus instead on spending quality time to bond with baby over this activity until it becomes a beloved habit, which it likely will gradually become, over time (refer to #1).
Once your baby has a few books they grow fond of, leave them in accessible places for them to find, like at the bottom of a bookshelf or a basket. Some babies will eventually seek out their favourite books as a means of independently entertaining themselves. They will flip the pages, "read" to themselves, even try to imitate the sounds you make. Other babies will grow to enjoy the activity so much that they might try to get you to read to them more often – possibly even outside the scheduled time!
As parents cultivate their child's appreciation for reading, they will also notice the manifestation of early pre-reading skills. These include orientating the book the right way, turning the pages in sequence, associating the pictures with the action, and learning that the words which are being read to them tell a story – collectively, these skills are all essential for early readers.
Continue reading on the next page...
---
Remember: Read often, make reading fun, help your child interact with the reading material, and involve your child actively in the story throughout. Before you know it, they'll be making reading choices of their own as they grow older. Encourage them to have a wide repertoire of reading topics, and regularly recite to them these words of wisdom from Dr. Seuss: "The more you read, the more things you will know. The more that you learn, the more places you'll go!"
Here's where to get your child's reading fix:
Libraries: Singapore's numerous public libraries are extremely accessible and it's also really easy to borrow reading materials. Visit www.nlb.gov.sg to find out more about membership and borrowing privileges. Or head to http://search.nlb.gov.sg/ to look up specific titles and even make a reservation.
Bookstores: Most local shopping malls have at least one bookstore tenant. Books Kinokuniya at Ngee Ann City is a popular haunt, while other familiar names include Times, Popular and the MPH chain of bookstores.
Online: Beyond the usual suspects of Amazon, Barnes & Noble and Fishpond, go niche by supporting local online book retailers who specialise in titles for babies, pre-schoolers and young children:

www.flipforjoy.com.sg: For parents looking to raise bilingual bibliophiles, this site offers a good range of Chinese books for kids from birth to 9-years-old.
www.thegroovygiraffe.com: Singapore's first official online remainder bookshop for kids up to 12. All their books are overstock and overprint titles (which define "remainder"), so prices are heavily marked down. There's a Children's Laureate section for award-winning titles and even a Cookbook category for culinary-inclined caregivers!
www.littlegoodbooks.com: Run by a mother of two kids, this site offers a selection of books for newborns to kids aged 7. As all the titles are handpicked by the owner herself, littlegoodbooks prides itself on quality and not quantity.
www.myimaginationkingdom.com: This online retailer has also set up shop at One KM mall on Tanjong Katong Road. There are books for babies to 12-year-olds, and local children's authors are available too. There's also a dedicated section for parents and teachers with educational books about reading and mastering the art of storytelling.
If you like this article, share it with your friends!